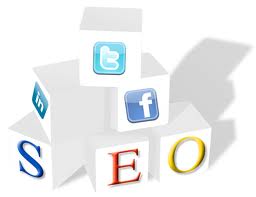 Having done some research on Social Media and SEO, I started wondering whether these two could be integrated. Could active participation in Social Media improve your ranking in search engines?
To start with the basics, the link-related factors that affect the website's ranking are:
Anchor text of incoming links (actual words in a link)
Link popularity (number of incoming links)
Diversity of links (number of pages those links come from)
In theory Social Media offers a great opportunity to build backlinks in every social media network, which will then rise the website closer to the top in search engine rankings. The reality is a bit tougher: Social media does offer a possibility to create links and improve your rankings if it goes viral. However, only building a great amount of backlinks will not improve your search rankings. According to Norm Elrod, most of the biggest social media platforms use so called "nofollow" in their outgoing links. It means that the search engine robots are told to not follow the given link. Even if the users click the link and visit your website, the link will not improve your ranking. This applies especially with the king of the search engine, Google, while Yahoo! and Bing are less strict. Social networks Facebook, Twitter, YouTube, Digg and Flickr use the "nofollow" as does Wikipedia. The most of the links in blog's "comments" section are "nofollow".
But yes, it is still possible!
After realizing the potential Social Media has, Google and Microsoft's Bing recently signed a deal with few social networks to integrate social media into their search results. Google agreed with Twitter to add "tweets" into its search results and Microsoft agreed with both Twitter and Facebook to show tweets and status updates in Bing. But it is not all: most of the Social Media platforms have an RSS feed of the content. Even if the links on the page are "nofollow", same links in the RSS feed are not. Also, all the major blog-hosting sites such as WordPress, Blogger and Tumblr and less popular social network sites do not use the "nofollow" and neither do forums and article submission sites.
So, how to improve your search-engine ranking with Social Media?
Use keywords in tweets and status updates.
When you have identified those specific keywords, use them. It is very important to integrate them to every tweet and status update, but do NOT be BORING. If all your tweets or status all look the same, people will stop following you. Norm Elrod recommends using the long-tail phrases that apply to deeper pages, and then linking them to the pages with strong anchor text. Search engines like it and will improve your ranking.
Link from profile pages.
It is very easy to link in Social media, especially from the profile page. Integrate your links to the site and tell the world where they can find you. There might be "nofollow" tags, but it will increase the traffic to your site. If people find it interesting, they may link to it from their own site. For example, bloggers are always looking for something new to write about.  And remember: different search engines treat the "nofollow" tags differently.

Expand your social network.
For example, Google is considering the inclusion of blogs from your social circle in search results.
Your "social circle means:
Direct connections from Google Chat and Contacts.
Direct connections from links on your Google profile.
Secondary connections publicly associated with your direct connections.
The bigger your "social circle" is, more possibilities your content has to appear in the search results of people connected to you.
Listen what the experts have to say.
The internet is full of expert blogs and advice on the subject. But if you are sick of online world, there are many seminars and conferences covering search engine marketing and social media, that bring in experts to talk about the integration of SEO and Social Media. They will discuss about their insights and best practices you could also apply in your marketing strategy.
Interact and keep on linking.
The best way to use social media for SEO purposes is to participate in the conversation. If you have something interesting and relevant to say, say it and link it. The results might be additional traffic, improved search results or both.