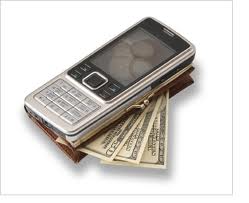 "The biggest trend is taking offline purchases online and enabling mobile purchases. Mobile technology can drive traffic to stores and bring consumers to merchants who offer deals online and enable redemption at POS…"
Fabio Sisinni, Director of product management at PayPal Mobile.
PayPal with its 94 million active accounts increased its mobile payment transaction volume from $24 million in 2008 to $140 million in 2009 to $750 million in 2010. It is expected to reach $2 billion this year and increase the mobile income to $7.5 billion in 2013. Seeing an opportunity in the increase of mobile devices and m-commerce across the world, the company launched its Mobile Express Checkout product for merchants last year.
"We're making mobile the main part of the business, because the most common way to access the Internet in the near future will be using connected devices such as Smartphones and tablets," Fabio Sisinni from Paypal Mobile said. "Our vision is a wallet in the cloud that consumers can access anywhere, anytime.
The Mobile Express Checkout has been created in partnership with Research In Motion for BlackBerry App World and it is already being used by merchants such as Starbucks and Footlocker.
Blooming Mobile Wallet trend
Paypal however is not the only one investing in the Mobile Wallets. Quick Tap, an offline mobile payment service has been launched in May 2011 in the UK. It enables consumers to pay for purchases up to £15 via mobile in offline stores, such as EAT, Subway and McDonalds, and end of the summer Quick Tap can be used as well to pay for the M6 motorway toll. The service works with NFC, a short-range wireless technology that underpins many wireless payment systems. Service is still quite limited since users willing to use the service have to have Orange and Barclaycard accounts as well as a NFC-enabled Samsung Tocco Lite handset.
More dangerous for Paypal is the bigger fish in the sea, Google, who announced it will also be launching a new app Google Wallet this summer, which allows users to pay, earn loyalty points and use the mobile coupons in the offline stores. The main strength the Google Wallet has compared to other two systems is that the company is taking advantage of its Google search and Google Places by integrating offers from search ad discounts to check-in-offers, which the consumer can then save into their Google Wallet. Very smart, since merchants can link their online and mobile advertising to offline purchases and target better the foot traffic. Merchants using the Google wallet are for example Bloomingdales, Guess and ToysRus.
There has also been rumours that Nokia will be bringing out an NFC-enabled version of the popular game Angry Birds later this year.
New trend, old invention
Even if the Mobile Wallets are now making a lot of noise, in real life the Nordics have used micropayments through mobile to pay the groceries, transportation tickets, etc. for years. Mobile wallet services have also been available in Japan during years, with different operators investing a lot of money on the NFC functionality.
In the UK, there are already 50,000 stores with NFC-enabled readers. What comes to operators, O2 already tried NFC technology in 2009 by using mobiles instead of Oyster cards, which commuters use for public transportation payments, and the company is said to launch its own mobile wallet service later this year. It has also been predicted, that by the time of the 2012 London Olympics transactions, transport and tickets will all be available via NFC-technology.

However, also in countries where technology is hard to come by, mobile wallet system is already "old". A UN study declares that "In the developing world, the growth (…in mobile usage…)has been driven by the use of phones for mobile banking and health services". For example, projects like PesaPa l and M-Pesa in Kenya allow people with no bank accounts but mobile subscriptions to do financial transactions with their phones.
Increasing Smarphone usage
The question is: will consumers see any point using the Mobile Wallet instead of a … wallet? The system has had its ups and downs in the past, but maybe the market only was not ready until the Smartphones became more mainstream? Are we not already so addicted to the mobile we cannot leave the house without it or even find a meeting place without its GPS system?
It is worth taking a look at Japan, since their mobile market is far more developed than we see in Europe or North America. In Japan 3G penetration stands at 95% of the market and Japan is also a society that uses primarily mobile phone for social networking. According to a research by Mobile Marketing Data Labo, 75.4% of Japanese respondents only accessed social networking sites from their mobile phone (and not from their PC). What makes this even more interesting is that we are not talking only about early adopters here, but a wide professional demographic.
According to the CIAJ annual report in 2010, 16% of the Japanese use Wallet Function on a "Daily Basis", without many differences between genders or age groups. The Japanese operators including DoCoMo NTT have been pushing chips on phones and readers in the POS actively and most major bank ATM's have already implemented a NFC cradle.   To get the ability to offer credit and give users possibility to post pay on their normal phone bill, the DoCoMo NTT purchased 33% of Sumitomo Mitsubishi Bank. Currently 500,000 NFC readers accept payment from their 15 million registered clients.
Even if the usage rate for Japanese Mobile Wallets is only 16%, we should note there are  two transaction types; one for POS (point of sale) and the other to run OTA (over the air) transactions. According to the RIAJ (Recording Industry Assoc. Japan) 2010 report, mobile music revenues were close to 1 billion dollars and the mobile gaming and SNS segments are showing even bigger demand (Thank you Lawrence Cosh-Ishii for the correction).
Co-operation with merchants and banks
Whether the Mobile Wallet will work in the West depends largely on the collaboration between merchants, operators, companies and banks. If there are not enough readers in the stores or NFC cradles in ATMs and people need to search for them, users are not likely to consider Mobile Wallet a practical and easy way of payment. Like many, many years ago with credit cards, when it was easier to get cash from banks and pay than find a place where they accepted the card. Yet if merchants are given a good, profitable reason to start using the readers in their stores and NFC readers become normal for stores to have, then Mobile Wallet has a lot of potential.
That is why Google's proposal of linking online and mobile ads with offers/discounts to the merchant's offline store is a very interesting proposal and might work. Having merchants on board and educating the masses might make the Mobile Wallet a new generation credit card. However it is definitely worth searching for best practices/failed projects in Japan, before launching a Mobile Wallet in the West.