Is it time to pull the plug and say farewell to your company website? The magazine AdAge has published some very worrying numbers concerning consumer behaviour and traffic between brands' Facebook pages and brands' official websites. It seems like websites are losing out to Facebook pages.
Looking at the chart below, we can see that very big brands gather millions of "likes". For example Starbucks and Coca Cola have more than 10 millions of fans.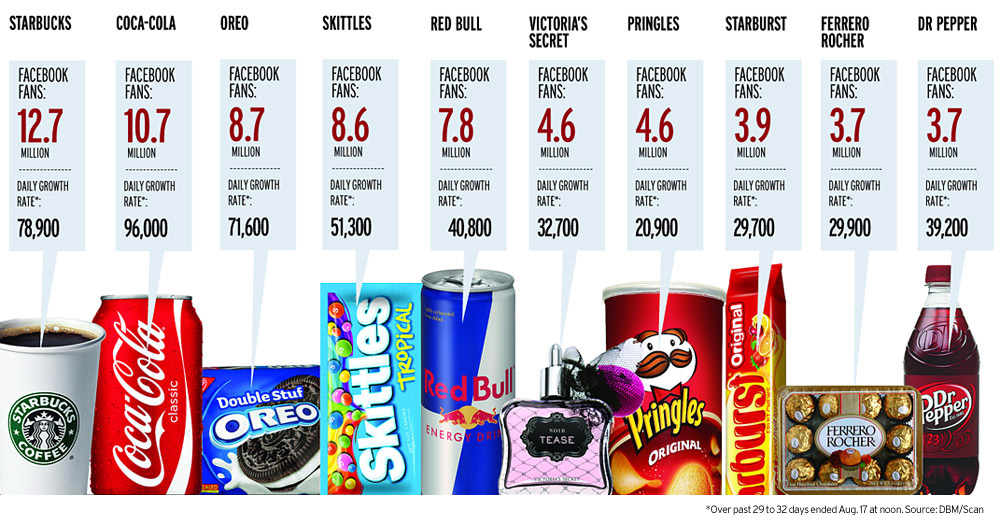 On the other hand, the traffic of the Coke U.S. website has decreased 40% in one year. Same story with the Oreo brand, which is the number 3 brand page on Facebook, with 8.7 million "likes" growing at a rate of 71 000 new fans each a day. The U.S. traffic of their website NabiscoWorld.com has decreased from 1.2 million in July 2009 to 321 000 in July 2010. Starbucks and its 12.7 facebook fans bring stable traffic to their website, yet taking in account their big international growth, should not the traffic be increasing instead?
What comes to the consumer behaviour, numbers do not get better. According to a new research by digital consultancy Beyond, 23% of consumers prefer receiving information from brands via Facebook, instead of a brand's website (21%) or company blog (3%). This movement is encouraged by marketers who do not doubt anymore promoting their Facebook page instead of the official site. For example in France, certain brands such as Orangina and Sony sign their TV commercial with a "facebook.com/nameofthepromotion". Other brands such and Ben&Jerry have announced they will simply stop emailing, using in the future Facebook newsfeed instead.
While Facebook is becoming the biggest relationship marketing tool for brands, it seems like that instead of increasing traffic to the company website, Facebook is actually absorbing it. Marketers across the globe are wondering whether their brand websites will disappear  and if there will still be a need for an official website in five years. Will the users still visit the company websites or will they only use Facebook and apps to check the news and offers?
"So is it time to turn off the web site?" asks Beyond's MD EMEA Nick Rappolt.
No. The dependence between Facebook and websites will increase, but especially from a global point of view – there really is life beyond Facebook. Only promoting a product in one social platform decreases the possibilities to reach all the potential audience out there. Most of the world is still not on Facebook and having seen the rise and fall of various hot, "world changing" platforms it would not be the most brilliant idea to kill the only secure place brand has in the Internet – the official webpage.
From SEO perspective, using only Facebook Page would drop  search engine results considerably, pushing brand lower in ranking and decreasing amount of quality leads.
It also should not be forgotten that a marketer is still the master of his own website, controlling its structure, organization, design, content, SEO, marketing operations, customer data etc., while Facebook Page is defined…well by Facebook. Do brands really want to become fully dependent on Facebook and its rules, allowing it to control, restrict and have their say on the content, design and campaigns? I do not think so.
To stop the trend, start using Facebook to drive traffic to the official website. Create a Facebook competition which requires finding clues around your website, announce you will publish the competition winners in your official website, tell your fans about a special offer they can download from the website etc. It is also possible to integrate e-mail marketing with social media, increasing brand's own customer database.
Facebook is just another way to promote an official website for example on career success. More importance you give the platform, less power you have over your own campaigns. Do not let tail wag the dog.