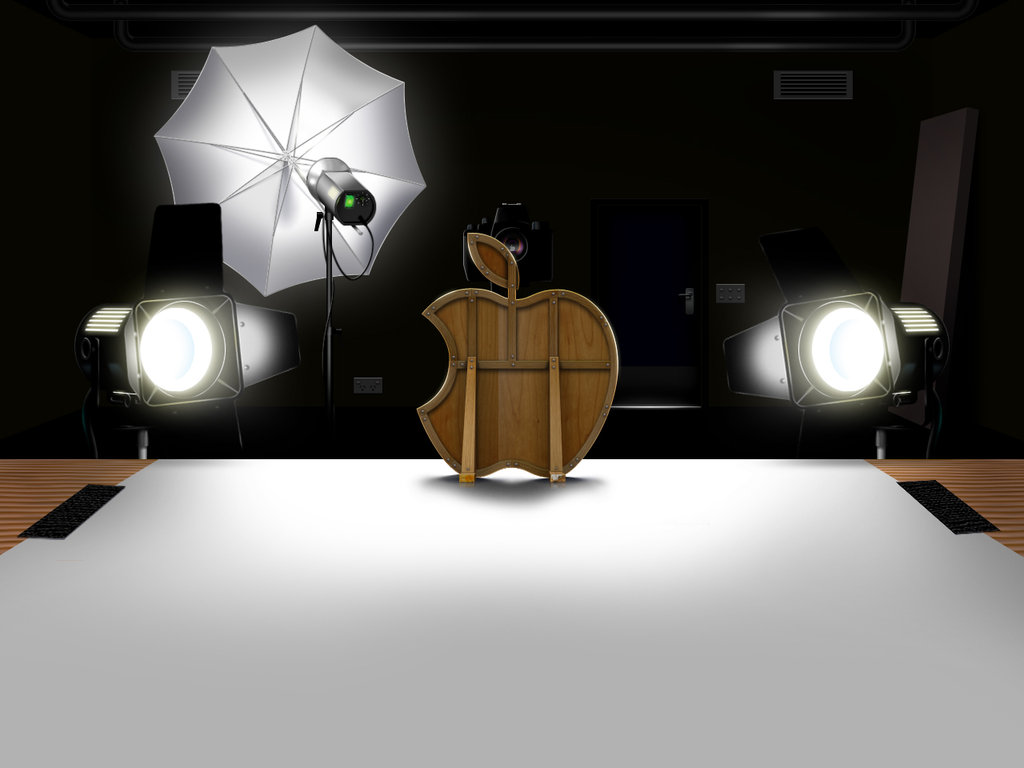 Back in 2010 I looked at the mobile market dynamics and OS market share statistics in the US and Europe, as all marketers talked about was Apple, iPhone apps and Apple's products. In reality, was it all about Apple? Not really.
In those days Android had started eating slowly, but steadily iOS market share, and Symbian OS was still dominating Europe.  2010 seems like a long time ago – things have really changed.
Last year was full of lawsuits, clever advertising, product launches, failed mapping headlines, and a whole lot of drama between Google, Samsung and Apple. But … is it really all about Samsung and Apple?
Samsung vs. Apple – a clever PR stunt?
In 2012 Samsung established a very strong position as an Android developer fighting against Apple and received strong support from the Android community … and from a part of the media as well. But is this battle really that strong or did these two companies take advantage of the tension between Apple and Android fans to fuel the fire and get their names out there? Looking back at the big amount of Samsung vs. Apple law suits and the cocky "apology" to Samsung by Apple, it is possible. And if they did, it worked: for a month or two all media and people talked about was Samsung / Google vs. Apple. You had to make a stand – either you were Android fan or an Apple fanboy. It was all or nothing. All nicely timed with iPhone 5 launch as well as Galaxy launches.
Samsung became almost a symbol of fight against overly-confident Apple, but there are much more great Android developers out there including ASUS (creator of the highly successful Google Nexus 7 and Nexus 4), HTC, Sony, etc. But did anyone talked about them in Google vs. Apple battle? Not really.
So what is really happening behind the scenes?
Constantly changing mobile market dynamics
1.5 billion handsets were shipped in 2012, a 2% increase compared to 2011. 700 million of the handsets were Smartphones, yet even if the global smartphone shipments increased by 490,5 million units (43%), the saturation in Western Europe and North America impacted the slower growth.
Samsung, Apple and Nokia were named the top three vendors with Samsung shipping 30% of the handsets in 2012. Company's Smartphone sales were mainly fueled by its record sales of the popular Galaxy models (396.5 million) yet the total handsets it sold were 400 million. Apple shipped 135.8 million iPhone units (19%) strengthening its position in North America, but the company failed to reach developing markets such as Africa as well as certain European countries. Meanwhile Nokia's market share dropped in 2012, but the launch of Asha and Lumia 920 / 800 had a positive impact in Q4 2012 with 86.3 million units sold, in which smartphone accounted for 15.9 million units composed of 9.3 million Ashas, 4.4 million Lumias and 2.2 million Symbian smartphones. Chinese handset manufacturer ZTE settled for fourth place.
Mobile OS market share in 2012
According to Kantar Worldpanel ComTech, Android has shown strong growth in Europe and Australia in 2012 and is holding now 61.1% of the EU5 and 55,8% of Australian market share. The growth has been significant in Britain, France and Spain in the EU5, but increase has been slow in Italy and its market share has decreased – surprisingly – in the USA. What comes to other markets, in Brazil Android increased its market share to 47.1% and in Mexico to  37.3%.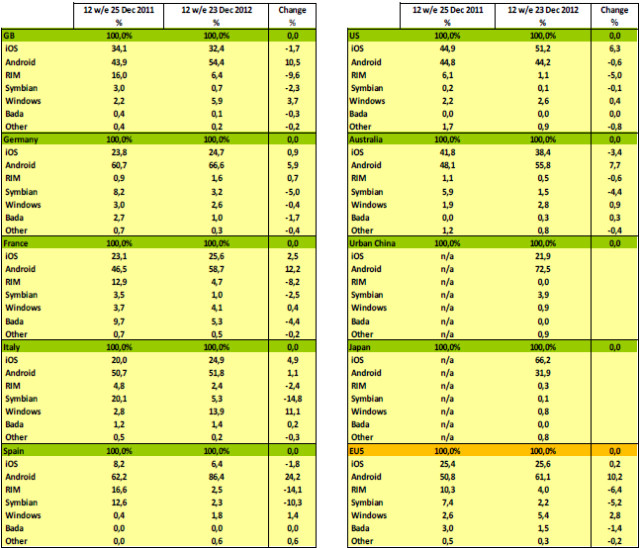 What comes to iOS, despite iPhone 5 and iPad mini launch, iOS market share in the EU5 has increased only 0.2%. The biggest growth in EU5 happened in Italy and France, yet the iOS market share decreased 1.7% in the UK and Spain. The US market share increased 6.3%, while Australian market share shrunk 3,4%.
In Europe Windows Phone's market share has more than doubled to 5.4%. The strongest market in EU5 for Windows phone is Italy with 13.9% of the market share (11.1% increase from 2011) and Britain with 5.9% market share (up from 2.2% in 2011). However, the growth has been slower in other EU5 countries, Asia and the US. In Brazil the market share has jumped up to 12.2% and to 2.7% in Mexico.
Symbian OS, Bada and Blackberry's RIM have suffered the market changes most in developed countries.
Mobile market in 2013
Apple seems to be struggling with a falling market share – and shares. The launch of the iPhone 5 in 2012 was a disappointment for many, and especially Apple's infamous maps have created headlines. iPad mini launch was also the first time when Apple moved from innovator to a follower by comparing openly iPad mini with Google Nexus 7 in the official press conference. Is launching a new model so rarely Apple's strategy to make the products more special? Or is there perhaps nothing new to publish?
Anyhow, Apple has still a very strong ecosystem and it has done a brilliant job on introducing Apple products in all aspects of user's life from home stereos and in-car assets to music and apps. Once you have bought Apple related things during years it is very difficult to switch to another Smartphone / tablet. That being said, Apple has made "switching" to other OS a bit easier with the introduction of the new cable, which means the things you bought for your previous iPhone are not compatible with iPhone 5 or any other new model Apple launches.
There has also  been a lot of speculation whether Nokia made the right choice of choosing Windows phone OS instead of Android. Maybe it did. If Nokia would have picked Android as an OS, what would differentiate it from other Android developers in Samsung's shadow? It will be fascinating to see whether Windows phone platform keeps growing strongly. Other interesting game changers to watch in 2013 are Blackberry 10, and Linux / Ubuntu based devices.
Android is going strong, but we might see a change from a role as a market challenger to a leadership defending OS. And the OS with the biggest market share tend to get challenged by the smaller OS – just what happened to Symbian and Apple. As mobile market is changing so rapidly, it could be possible that in two years time Apple has become a dinosaur, Android / Google the bad guy and Windows phone the new trendy platform … and the fighter of justice.