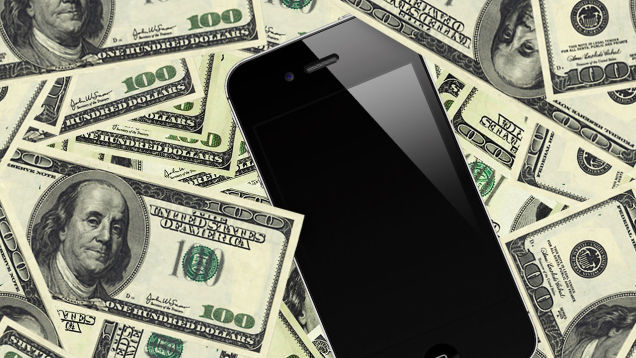 Even if Mobile App Development is one of the most promising careers in the market, 67% of developers earn less than $500 per app per month. With 81% of the top grossing apps originating from just 50 companies, getting enough revenue to survive can be a struggle for independent app developers and SMEs hoping to cash on the mobile app trend.
But not all is lost.
According to ABI Research, in 2018 app revenues will be worth $92 billion and you can still get a piece of that pie. However, it is crucial to choose the right monetisation strategy for your app.
Choosing the correct monetisation model for your app
Before pitching your app idea for the investors or licencing your idea for the giants, you need to prove your concept works and creates revenue. When you are designing and building your app, make sure to keep user – and monetisation – at the heart of everything.
You have few options to choose from: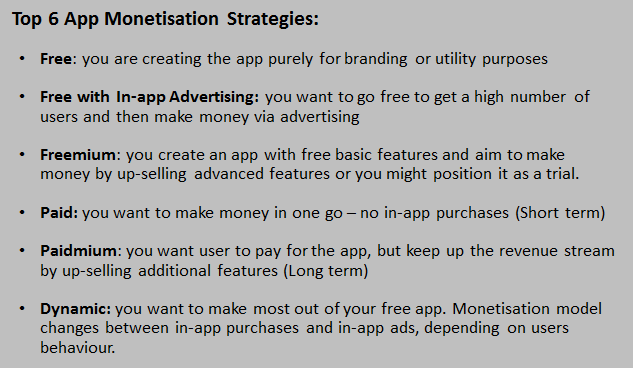 Every time you add an extra functionality, ask yourself if it could be classified as an advanced in-app purchase. Every time you add a result page, ask yourself if there's enough space to show a relevant in-app ad banner.
Paid vs. Free models
Both Freemium and In-App Ads model appeal to a larger user base as people don't have to pay up-front. If you want to go free and your app doesn't have features you can upsell, go for in-app advertising. But don't be lazy – if there's a chance to up-sell in-app purchases, do it. According to AppAnnie, less than 15% of publishers surveyed make $10K per month or more from in-app advertising.
Paid and Paidmium revenue both continue to decline, although they can still be successful for certain apps, especially in productivity, navigation and educational areas.
Even if you go for the free model, you can still enhance the revenue stream by making it easy and convenient for people to purchase a product, giving special coupons or offers for app users, or using the app to push a new product.
Choosing the correct strategy for your type of app
Estimate how much time people spend on average with your type of app. To give you an idea: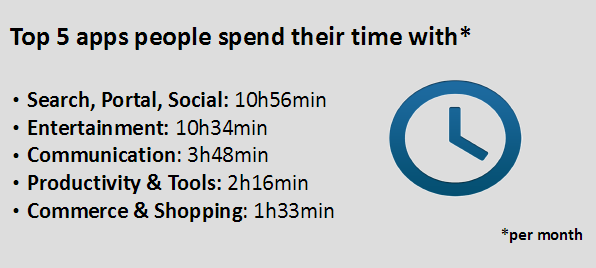 More time people spend with your app, more ads they are likely to see and click. For example, in Gaming apps most of the revenue comes from Freemium models as you can sell extra features and top-ups. Social Networking, search and useful apps rely more on outside content and bring in repeat users, making in-app ads a viable option.
Choosing the correct strategy for your target country
According to Statista, 41% of the total revenue in December 2013 came from Asia, while North America generated 31% and Europe 23%. China and Japan have the largest revenue share from the freemium business model with a record of 94% in January 2014. In contrast, only 70% of Germany's total revenue was generated from free apps with IAP. 
Interestingly, if look at App Annie statistics and compare revenue from in-app purchases vs. in-app advertising, in France, South Korea, Germany, Russia and Japan it is clearly best to bet on in-app purchase model. Meanwhile, in India, UK and the US in-app advertising seems to be the best way to go.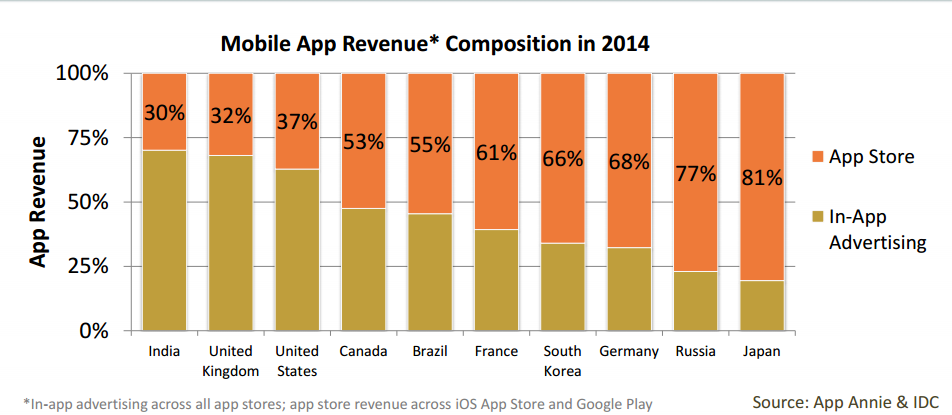 Don't forget your users
Whichever monetisation strategy you decide to pick for your application, remember to keep everything user friendly. Worst thing to do is to fill up your app with irrelevant advertising, interrupt people with ads when they are doing something (I was just going to get the top score!), create an app they cannot use unless they pay for every single feature … you get the point.
Last thing you want is to alienate your users as they are the ones bringing you the revenue in the first place.