I had a chance to participate in a very interesting connected car panel this week at Apps World Germany in Berlin, and heard Ford, CoPilot, Lamborghini, Scania and HP discussing about "connected car revolution".
According to Business Insider, the connected-car market is growing 10 times as fast as the overall car market, yet what shone through the panel discussion was the overall inquietude of losing control to external parties.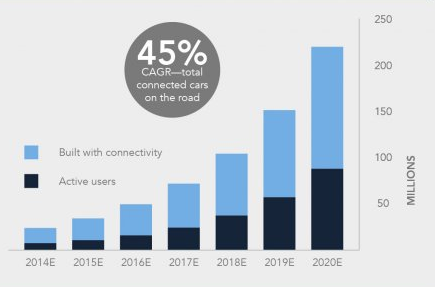 There might be possibilities for profit, yet car manufacturers do not want to lose control over any aspects of their car, and they certainly do not like Apple or Google dictating the rules. For them choosing a connected car OS is a big commitment – as Lamborghini stated, average lifetime of their car is from 7 to 8 years, which means they cannot make a wrong choice. They need to ensure that software quality and life cycle matches the super car quality and life cycle.
Developing for connected car is a big commitment
What many people don't realise is that developing for connected car is a huge commitment also for app developers. It does not only cost to design and build the app for a certain OS or car brand, but it also takes time and resources to maintain and update the app for the next 7-8 years. Plus, in some countries, the average life time of a car is much, much longer extending to 13-14 years.
And if you don't update it? Like any software, it becomes easily hackable and in a car even outright dangerous.
There is a reason why app developers and brands expanded to Android so slowly, even if it has had much higher percentage of the market than iOS for years. In a fast-paced industry where titans rise and fall, and developers are pushed to improve their app constantly to meet consumers expectations, even developing for a different OS is a big decision to make. Now developers are being pressured to jump on a wearable tech and connected car bandwagon, and expected to develop, update and maintain even more versions suitable not only for Smartphones and tablets, but also for watches and cars.
Need for an industry standard
What strikes me most is that car manufacturers, app developers AND consumers are asking for an industry standard for connected cars to improve the development costs and user experience … so why don't we have one? Why don't we have one OS for all the cars, which would make life much easier for all the parties?
Mirrorlink certainly was a step in the right direction, however with time it has become a rather old, inflexible system to develop for. It is quite time consuming for an app developer to change the app to meet the car manufacturers' requirements, and it also costs a considerable amount to be certified. Meanwhile, Google and Apple prefer doing their own thing, yet do not eagerly share information of their connected car specs with app developers. Apps should definitely take in-car experience and security in account, yet lack of information and support can be demotivating and return of investment hard to explain for the finance team.
Plus … is connected car something people really want?
44% of consumers have never heard of connected car
Interestingly, according to Business Insider, 44% of consumers have never heard of connected car and 42% have heard about them, but are not familiar what they actually do. Google will be bringing automated cars in the market, yet only 4% of the consumers are interested having one. That's why even if there will be 220 million connected cars on the road globally in 2020, consumers are estimated to activate connected services in only 88 million of these vehicles.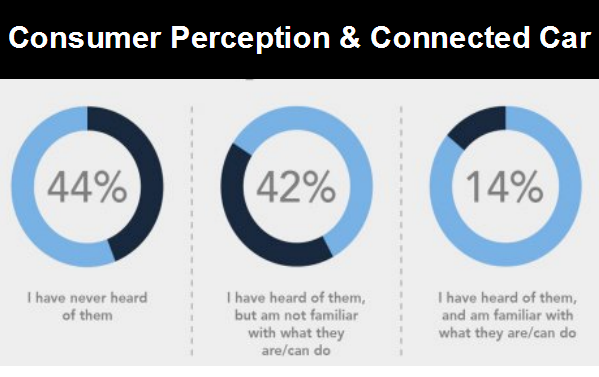 When calculating the cost of development and maintenance, these numbers seem a bit worrying. Would it not be better to spend resources to develop apps for millions of Smartphone and tablet users than for a small automotive or wearable niche?
To be first or to be better … that's the question.
This brings the conflict any app developer has: is it better to invest a vast amount of money and resources to be one of the first on the market or is it better to wait, learn from others' failures and bring a much improved version of the product to the market when consumers are actually ready?
Not that connected car concept is new as there has been connected car projects for over ten years – some successful, some not. Problem is that there is a clear confusion in connected car space regarding the right connected car system, with some choosing iOS, some Android, some Mirrorlink, some all of them, and some even making their own one (Tesla OS) … and if car manufacturers are not sure which one to go for, how can an app developer be?
Being one of the first might bring fame, but it might not bring fortune if customers are not ready for it. This being said, if you reach a win-win agreement with a car manufacturer, the project might bring you both. This is certainly something worth thinking about.