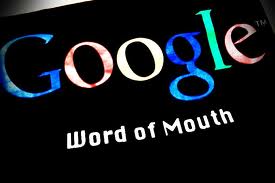 I found today an interesting article by Ed Keller, CEO of the Keller Fay Group revealing the 7 strategies Google uses to increase the word of mouth. During the School of WOM, conference organized by WOMMA in Chigago last week, Jim Lecinski, Google's Managing Director U.S. Sales and Service, talked about the seven strategies Google uses to get the positive buzz going:
1. Pose a Challenge to the Community
By challenging the community, the users will respond, embrace the challenge, share and create something big. Participants share it with their friends, viral marketing gets going, media gets interested, more people hear about it. A snowball effect, I would say. An example: The "YouTube Symphony Orchestra". Contestants were challenged to download a score and upload online videos for their audition. In four months time (December 08-April 09) 3 000 musicians from around the world auditioned and only 96 were selected to join the orchestra conducted by Michael Tilson Thomas. More than 1 million watched the concert on YouTube.
2. Hold a Contest
Who does not like winning? The contest Doodle 4 Google received more than 30,000 entries from under 12-year-old students from over 20,000 schools in U.S. The idea was to create their own Google doodle, "logo" that shows in its homepage, inspired by the theme, "If I Could Do Anything, I Would…". The finalists were chosen via online voting and the winner, a 9 year old girl, was selected by judges. Her doodle was featured on the Google home page and she received a $15,000 college scholarship and a $25,000 technology grant for her school. Investing in the future and education gave a very positive image of Google.
3. Give a Gift
Free gift? Yes please. Everyone likes a gift and tells all friends about it. Therefore the word about "Free Wi-Fi for the Holidays" Google offered from November 2009 until January 2010 with Virgin America and 54 airports across the U.S. spread like a bushfire. Even having a WIFI at the airport is not so evident, so a free WIFI is surely worth talking about.
4. Surprise Them
Google is famous for its ever changing doodle in its home page. To celebrate Pacman's 30th anniversary in May, Google created the first interactive Pacman-doodle. For their immense surprise and delight, the visitors could play Pacman in Google's homepage. I happened to be one of them and absolutely loved it! And yes, I told all my friends about it. People love unexpected surprises!
5. Draft on Advertising
Why only use advertising when you can follow and expand "the story" with something interactive? Usually avoiding mainstream advertising, the Google ad "Parisian Love" on the 2010 Super Bowl surprised many people. It is a story of two people meeting, falling in love, getting married, and settling down to start a family in Paris – all told via the Google search. However, the point of this advertising was to create a follow up for it and push the audience to use the Search Stories Video creator that allows users to create their own story via search terms, add music, preview, and upload it to YouTube for everyone to see.

6. Let Others Tell Your Story
You already have fans out there, people who love your brand. Let them tell your story, they might even do it better than you do! Google wanted to spread word on Apps, a Google's web-based hosted software alternative to Microsoft. To motivate the users to talk about Apps and create a user fan base, Google created a special website where users could share their own story and tell the world why they have "Gone Google." The company gave away "Gone Google" laptop stickers, bumper stickers, mobile phone stickers, luggage tags, etc. Fans loved them and were proud to spread the word of the new software.
7. Invitation Only
More exclusive it is, more you want it. The "scarcity" strategy Google uses for new product launches such as Google Voice and Google Wave creates demand even before the actual product launch. Only a limited number of people can participate and each one of them has only a limited number of invitations they can offer to others. People who have the new product feel special and love talking about it and people who have not been invited yet start searching for someone who still has these invitations. My friend passed me the exclusive Google Wave invitation, asked in Facebook if I liked it and suddenly I started getting mails begging me to send an invitation. IPhone had similar effect in Europe: my friends and colleagues were travelling to U.S. only to buy the new iPhone. We all were jealous when we saw it "live" and rushed into stores when it was finally available in Europe.
What I like about these strategies is that they are actually old marketing tactics with innovative twist focused on word of mouth. There is no need to be a technology guru to apply these in your industry. "Go Google" and modernize the old tactics that work!