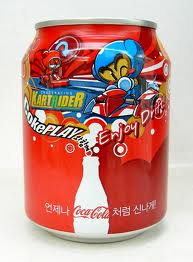 With 43% of South Koreans maintaining an online profile or blog site and 90% of Korean twenty-somethings logging into a social network daily, the market seems like a perfect Social Media playground. Searching for a stronger position in Asian markets, Coke decided to experiment in South Korea with a new strategy. Instead of one-off promotions, Coke preferred to study their participants and reach out for them when they knew each influencer's tastes and interests.
"Lots of companies are engaged in blog marketing nowadays, and we, as bloggers, do get lots of requests," admitted Eun Ju Kim, one of Coke's Korean mommy bloggers. "But Coca-Cola Korea was different. The company really listened to us from the beginning. The company fully allowed me to enjoy the area that I was most interested with and share my experience through my blog. Lots of people ask me how to become a Coke blogger."
To build a sustainable blogger outreach program the company wanted to find out how Coke could better communicate with local bloggers, especially young mothers.These influencers were introduced to the company through special blogger-only events and their opinion and advice was asked. Was it easy? No. Did it need patience? Yes.
It did not happen overnight: Coke has devoted 2 years to build relationships with powerful bloggers who are important local "digital influencers." The company contacted these 8 "mommy bloggers" tagged as "Coke friends" back in 2008, and they voluntarily become Coke evangelists connecting Coke with Koreans who visited their blog.

"These women are not simply in charge of a onetime event or project but are vitally important stakeholders," declared Kenth Kaerhoeg, group communications director for Coca-Cola's Pacific Group in Hong Kong. "Each blogger has been paid careful attention to, various brand and company information appropriate to each blogger's interest and inclination has been continuously provided, involving them into a variety of marketing and corporate events, therefore enabling them to share unique and exciting Coke experiences."
After two years Korean families are talking more about (and drinking) Coke. The company is planning to expand the blogger dinner parties into larger programs involving also young bloggers also in other Asian markets. The company has already created social-media programs in China, Singapore, Australia and Japan, particularly to promote Coke in the 2010 World Expo in Shanghai.