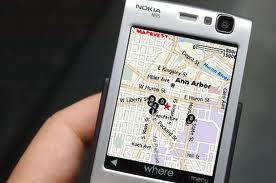 Everyone has heard about Social Networks and mobile marketing, but what is exactly a location-based service? LBS is an information and entertainment service, that can be accessed with mobiles through the mobile network and which has the ability to make use of the geographical position of the mobile in question.
Think about the traditional media you use to reach consumers in specific geographic markets (direct mail, newspapers, directories, cable and outdoor). Now think about reaching this target group through mobile, which is able to tell the exact location of the person or object. Goodbye out-dated information.
Long way short: Local is about the point of sale and mobile with LBS brings the consumer to the point of sale.
However, there are many businesses out there that do not take advantage of LBS. If you need the numbers, here we go:
Increase of traffic to POS: According to a study by Opus Research, 20% of the consumers redeem mobile coupons, compared with 13% online and 1% print coupons.
Relevance: After analyzing more than 5 million searches, Chitika found that local queries on the PC generate 38% more CTR than non-local queries. On mobile devices, local-search users clicked through 64% more often.
Faster buying decision: Microsoft reported in early 2010 that 70% of users take a week to begin and complete a search-related task on the PC. On mobile devices, the time frame is one hour.
Mobile and LBS is a new, inexpensive and easy digital tool that drives consumers to the point of sale and captures campaign data. It helps the companies to track online-offline connection that earlier was very difficult. Even if between 80% and 90% of consumers regularly consult the Internet before making purchases in actual stores and the Internet's influence over offline buying is unmistakable, local marketing online has really never had that "search to store" visibility.

LBS allows Smartphone-owners to "check in" to a business or address, and then instantly share that information with friends or connections. "Such recommendations provide "street cred" that is the single most powerful effect of location-based services", Dan Zarrella, social media scientist at marketing-software firm HubSpot Inc, says. "If a bunch of my friends, whose opinions I trust, recommend it, I'm much more likely to be interested in it."
There are quite a few LBS to pick from, depending on your preferences: Foursquare app on BlackBerry, Gowalla on Android and ShopKick on the iPhone, Other fast-growing LSBs include Brightkite Inc., Facebook Inc.'s Places and online-review site Yelp Inc.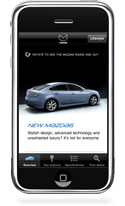 There are many ways to use user's location to your advantage. The best way to see how indentifying user's location actually works is to have a look into different apps. As an international example I would recommend checking out the new Mazda6 not for everyone – app developed by Syzygy. It has been released in 9 different countries (Austria, France, Germany, Italy, Netherlands, Russia, Spain, Switzerland and Portugal), yet even if it is produced centrally it identifies user's location in his/her current country and shows the closest unusual local restaurants, art events, outdoor activities, clubs or historical sites. And it shows user how to get there.
The intelligent twist is that these activities are not commonly known: you have to be local to know them. So if you are travelling in Europe and visit any of the above mentioned countries, you can open the app, go to Lifestyle section and pick the country you are in and see the rare, local activities close by.  Also, to drive traffic to the local POS, the app shows new features of the Mazda6 and calculates user's route to the closest dealer according to their current location. This is a great example how cooperation with local market units and using GPS can give an extra spice to the mobile app and turn it relevant not only locally, but also internationally.
Mobiles & LBS have many benefits and since the Smartphone market is booming it will have even more important role in the future. It is a great way to reach your customers and gives them the immediate solution to their "problem/need". Track what works and what does not and use that information to design local and relevant promotions and events that might bring these users back or recommend you to their friends and colleagues.