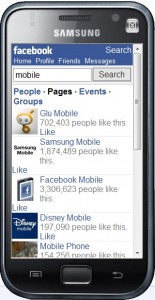 It took a while, but Facebook has finally – at least officially – identified mobile as "critical to maintaining user growth and engagement over the long term." The global social media platform acknowledged that users are moving from PCs towards mobile Facebook access, and admitted that "if we are unable to successfully implement monetisation strategies for our mobile users, our revenue and financial results may be negatively affected."
 Growing International mobile advertising market
 According to experts, global mobile advertising market is experiencing an annual growth rate of 64% and is expected to reach 17.6 billion US dollars by 2015. This might be the main reason, instead of the user engagement, why the social networking company is so interested in mobile market. In fact, Facebook's biggest revenue channel is advertising, generating 85% of sales in 2011. To put it in perspective, Facebook's revenue accounted for 3.71 billion US dollars in 2011.
Surprisingly, Facebook is not currently generating profit directly through the Facebook mobile products and it has not been advertising via mobile. The social media company revealed that this is going to change and that they "may have potential future monetisation opportunities such as the inclusion of sponsored stories in users' mobile News Feeds." I am not sure how the Facebook users are going to react, but users' reaction seems to be one of platform's smallest concerns, especially taking in account the recent changes, privacy issues and the polemic regarding the timeline.
 Global Facebook mobile usage
 But how many users are currently accessing Facebook via mobile? According to Facebook, more than 425 million monthly active users (MAU) were utilizing its mobile products in December 2011. This has great significance since in total the platform has 845 million monthly active users and it seems unbelievable that the social networking company has not realized until now the potential mobile marketing has.
Company is forecasting the mobile user rate to grow even faster than the MAU, which has been increasing annually 39%. This may very well be possible. According to a recent ComScore study, 55.1 million European mobile users accessed social networks or blogs via mobile devices in September 2011 only, representing 23.5% of the total mobile audience. Not only did the mobile social media usage nearly double, but 47% of the users accessed social networks and blogs daily.
Challenging global mobile market
 Facebook might have a strong position in International online market, yet the global mobile market is full of competitors and challenges. The social networking company admitted that it is dependent on different mobile operating systems they do not control, such as iPhone OS, Windows OS and of course … Google's Android.
 Until recently we were experiencing Apple smartphone domination, yet things are changing. Industry analysts are predicting that Windows Phone will increase its market share up to 16.7% by 2015, while Apple's market share will decrease from 18% percent to 16.6% by 2015. Meanwhile Android is expected to grow from 47.4% to 58.1% by 2015.

 There are several reasons for the change. One is Nokia's powerful partnership with Microsoft, which has resulted for example in a successful Lumia mobile. Other is Android's massive volume of devices. Even if the Android OS is fragmented and constantly changing, Apple takes its time to launch a new expensive new iPhone / iPad, while hundreds of Android powered mobiles arrive in stores across the globe in a year … and with a cheap price.
Facebook / Apple mobile partnership?
Facebook has a problem. It is planning to step into the mobile game, however its 425 million MAUs have already an existing Facebook app, there are many competitors in location-based services, social networks, games and deals, and the social networking company does not have any control over mobile OS. Apple on the other hand is losing its market share rapidly while Android OS is growing fast.
One interesting possibility the two companies have is augmented reality. According to Juniper, by 2015 global revenues from AR will reach 1.5 billion dollars. ABI Research estimated that even if in 2010 revenue from Augmented reality was only 21 million dollars, amount might very well increase to 3 billion dollars by 2016. But it gets better: AIB claims that revenues related to Augmented reality will increase from 6 million dollars in 2009 to more than 3.5 billion dollars in 2014 – which signifies a yearly growth of 97%.
What this has to do with Apple and Facebook? Apple has acquired recently Polar Rose, a company which has created facial recognition software and other elements that enable the "automatic creation of events based on visual cues in images." This brings enormous possibilities in social networking area, which should interest Facebook. Apple has the iPhone OS and technology, and Facebook its Facebook Places and large user base perfect for the newly acquired facial recognition. If these two companies join forces they can very well have a chance to compete with Google. Actually these two combined could possibly even be very, very dangerous for Google.
Facebook and Google do not like each other. Apple and Google do not like each other. What would be a better partnership than ganging against a common enemy?