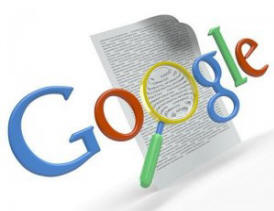 Earlier this week Google launched revamped sitelinks, changing the way these are displayed and organized in search results. Sitelinks are links that appear under certain search results and ads. They are Google's way to allow users save time and find information they are looking for by analysing the link structure of your site and displaying the shortcuts under your main URL.
From user perspective sitelinks give them a quick overview of the website's content and help them to access quickly most relevant parts of the site. From brand or company perspective the sitelinks allow webmasters to showcase areas of the site that normal users are not aware of.
New Google sitelink structure
Google changing the sitelink structure is nothing new, since the search giant has been experimenting with sitelinks for years. When Google launched these years ago they were only a single row of four links and since then the sitelinks have been shown in different ways from bullet points to separate results, until the company ended up with the current structure. Google increased the maximum number of sitelinks per query from eight to twelve showing title, URL and a small description of the page.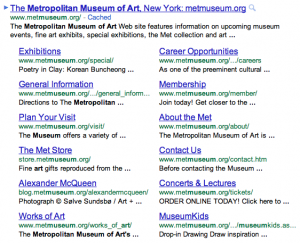 Google sitelinks impact on SEO
Previously there was no query-specific ranking of the sitelinks, but each site had a fixed list of sitelinks that would either all be visible or not at all. With the new structure, sitelink ranking and selection can be different for each query showing even more relevant results.
With more relevant – and more visible – sitelinks the CTR for your brand searches is likely to increase. Unfortunately the separation between the top domain and other domains is also clearer. It means that if sitelinks appear for the top result, then the rest of the results below will be from other domains. Not your website.
This is why it is very important to get the displayed sitelinks structure, title and description right. Check which sitelinks appear under your brand website. Are they the ones you want to appear, do they lead to main parts of your site and is there some important page missing? Is the title or description wrong or boring?
To manage sitelinks, login to Webmaster Tools where you can ask Google to remove sitelink you want. Google will then pick another sitelink however you cannot control which one will replace the current one. Please note that you can only try 100 times.
To modify the title, find out where Google pulls it from – it can be anchor text, footer, page title, headings or main body. To change the description, change the meta description tag of the page.
Google sitelinks impact on PPC
The AdWords sitelink structure remains still the same showing up to four additional destination URLs on the search-based text ad. However, the big difference between the organic search sitelinks and ad sitelinks is that you can control and edit the ad sitelinks while with organic sitelinks you have to rely on Google's judgement.

This is why even if your brand has more visibility on the search results page with new Google sitelinks structure, it does not mean you should abandon PPC. Sitelinks will bring more clicks, but if competitor decides to bid and place text ads with more appealing sitelinks near your brand you might lose quality leads. Remember AdWords bring most of Google's annual profit and this might be one of the reasons why Webmaster Tools does not allow you to choose your organic sitelinks.
Change for the better?
Depends on your ranking, displayed sitelinks and whether you are a brand, reseller or price comparison website. For brands this works out fine as long as the sitelinks are checked and optimized, since it gives them a higher visibility over the latter.
Happy to hear whether this has affected your search results or PPC campaigns in a negative or positive way.