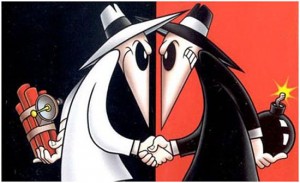 One of the advantages of the increasing online marketing is the easier access to competitors' information. The problem is: there is far too much of it.
Without specialists focusing on everything from SEO to eCommerce it is hard and time consuming to see and analyse really what is going on around you. Yet concerning the optimization of your online investment, analysis of your competitors may give you better results in SEO and online campaigns. This gives your brand bigger presence in the search engines, which will then increase the traffic to your site, which will then improve the brand reputation, which will then…you get the idea. So let's spy…I mean "analyse" what competitors are doing.
#1 Search and find out who your competitors really are
Make a list of the competitors you want to follow and in which country you want to follow them. However, especially with the increasing globalization you might know your local competitors, but not your online competitors. They are the companies that appear in search  results when searching your industry, service or product. If you focus on a specific area or you are a SME, do not forget to include as well the geographic location.
Where to search?
Google/Yahoo/Bing: obvious, yet remember that if you want to search for competitors in Spain, do not search with a different search such as www.google.co.uk. It will not show the results in same order.
Facebook: Go to search and type name of your competitor, industry, service or product
Twitter: Go to search.twitter.com and type in your industry or service or even the name of the competitor's CEO.
Youtube: Go to search and write down your competitor's name. Then click search options and you will be able to select channels (official) or videos. You also can pick your industry in categories to have an overview and select the release date of the videos.
Industry forums: Check which companies/products forum participants recommend.
Local social networks: Not all is around Twitter, Facebook and Youtube. Find out which social networks are popular in your country (or country you're targeting) and check if your competitors have presence there
 #2 Get organized
Create specific folders for each competitor, your brand and industry news. This way every time you spot a post, article or an ad, you will have a place to archive it immediately for later review. If you put everything in one folder, after a while it will become time consuming and unpleasant to go through it all and try to filter which news/article/ad belongs to which competitor.
#3 Write down what you want to know
To compare your competitors and your brand becomes difficult if you do not have the same information of each one of them. If you have the list ready before you go through their online activities, it is easier to spot information you are looking for.
For example:
What services they offer
What is their price range
Who their clients are (testimonials/feedback page)
Who are they targeting
How do they market themselves (quality of the website, professional…?)
What is their brand position and what makes them stand out from others
Are they present in social media (links in the website, social media groups…)
Which keywords they use
 #4 Search if there are any keyword packed domains available. If there is – get it.
 While you are searching, check if any of the search words you used shows up as  a domain name. If that is not the case, it might be a good idea to buy one part of the search phrase or the whole search phrase as a domain name. It will prevent your competitors using it and it can be used for a blog, landing page or other additional website. Or if you are just starting, you may start using it instead and redirect the old link to your new page.  
 #5 Follow your competitors separately
 Biggest error to do is to receive all the information only to one inbox. Especially if it is a work or personal inbox, Twitter or Facebook account. This will cause information overload and it will be time consuming to separate even after few days which news/tweet/post belongs to each competitor and which belongs to your colleagues and friends. However, some emails have separate filters to organize mail automatically and there is a possibility to create private lists on Twitter to follow competitors, industry news, advocates and critics. This allows you to organize Tweets by category and pull information out effectively.
 #6 Sign up for the monthly/weekly newsletter
 It is a great information package of your competitors' offers, news and strategy. Do not use work email though: if they notice your company name you will be unsubscribed.
 #7 Be their "friend"
"Liking" your competitors on Facebook or being their "follower" on Twitter does not mean you support them. Instead by being their "friend" you will have a direct access to their promotions, offers, branding and other social network activities in real time. It will increase your reaction speed.
 #8 Set up a RSS feed on competitors pages
 To avoid visiting blogs, competitors sites, twitter lists, social media sites etc. regularly, set up RSS feeds to your specific inbox(es). 
You can also track competitors with Google Alerts, which are free and allow you to filter news based on the search criteria. When Google finds a relevant post or article, you will receive an email with a link.
 #9 Take advantage of the social media tracking tools and see what your competitors do in real time
Competitors' social media promotions and branding campaigns have become relevant also from SEO perspective now that Google and Bing have included social network activities into their search results. IceRocket, Addict-o-matic, Seesmic, TweetDeck and other tools can show you what competitors do and what people say about competitors in real time.
#10 Take advantage of the SEO tools and find out which keywords your competitors are using
For a quick look, you can use the page source to see the keywords yourself. You can see website's html code by right clicking and picking "view source" (IE) or "view page source" (Firefox). Have a look at your top competitors' homepages. No need to read the whole page, because the keywords are near the top. Check if you could "borrow" any of them.
 There are also various advanced SEO tracking tools available:
These little tricks are great way to find out what your competitors are doing, but the idea however is not to copy. By analysing the data you will be able to optimize your online campaigns, websites and search engine ranking, find your competitors' weaknesses to exploit and react quickly to your competitors' campaigns, promotions and offers. Learn from the best practices and errors, and see how to best differentiate your brand.
It is also good to remember that your competitors may very well be "analysing" you right now, so check your database. They might have made the error of using their work email.