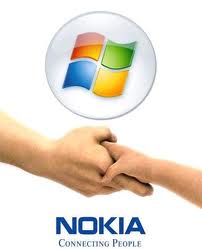 "Nokia has been infected by the biggest computer virus in the world – Microsoft", was the reaction of my Finnish dad when Nokia announced they would change Symbian OS to Windows Mobile OS. Watching the feedback around the web, most of the Nokia fans agree and are furious of Nokia's new partnership with the giant. The investors did not have much faith either, stock diving 14% straight after the news.
Myself, proudly coming from the country of Linux, I must say I was not very "excited" either. But…could this be a chance to bounce back?
"The Black Friday" of Nokia
Last Friday Nokia announced the new partnership with Microsoft to build a new global mobile ecosystem. The decision means that Nokia will abandon its Symbian OS and take the Windows Phone OS, developed by Microsoft, as their principal Smartphone operating system and will develop on top of it their own solutions. Stephen Elop, CEO of Nokia, did not respond directly whether Nokia has to pay Microsoft for using the Windows Phone OS, but Microsoft CEO Steven Ballmer makes it clear the contract between two companies is not exclusive. Other companies can also add the license into their phones in the future.
 Why to change Symbian OS to Windows Mobile OS?
Stephen Elop declared one of the main reasons for Nokia to chose Microsoft Windows Phone – operating system instead of Android was to stand out from the crowd. The competitors using the Android are for example Samsung, LG, Sony Ericsson and HTC.
What comes to the current mobile market, according to a study by Nielsen measuring the recent acquired Smartphones in the U.S, iPhone OS has experienced a decrease in popularity while Android OS is experiencing a steady growth. ComScore study in July 2010 claims that Blackberry owns 39.3% of the Smartphone market share in U.S. compared with 23.8% market share  iPhone has. Android OS follows the two with 17%, a number that is constantly increasing. Windows Mobile holds 11.8% of the market share, Palm 4.9% and Symbian (Nokia) only 3.2%.
In Europe, it is a completely different story. The recent study by comScore reveals surprisingly that the five largest European Smartphone markets in Europe are still ruled by Nokia. A high 51.2% of Smartphone-owning respondents in the UK, France, Germany, Spain and Italy have a Symbian OS by Nokia.
In Africa, Symbian OS rules as well on this continent. For example, eight of the top 10 most popular Smartphones used in South-Africa to access the internet, according to AdMob Mobile's Metrics Report April 2010, were Nokias.
However, Nokia has been struggling in the Smartphone market focusing on price more than innovation and has experienced a 21 percent drop in revenue in the final quarter of 2010. Elop claims that Nokia is being attacked on all fronts — by Apple from the high-end, Android from the middle and MediaTek from below. Also, another factor forcing Nokia to pick Microsoft could be the carriers. According to a report from the Financial Times, the company was receiving pressure from its European carriers, such as Vodafone, Telefónica, and France Telecom, to not adopt Android, because the market already had too many companies with Android OS.
It should also not be forgotten, that Elop is a former Microsoft executive and the first non-Finnish CEO Nokia has had.  It is quite obvious the CEO has not been objective and the possible move of "executive centre" to the U.S.  would be a big strike to brand's strong national identity.
New Nokia Windows Phone
Engadget published the first pictures of the Nokia Windows phones last week and Jo Harlow, responsible of Nokia Smartphones, confirmed they are real.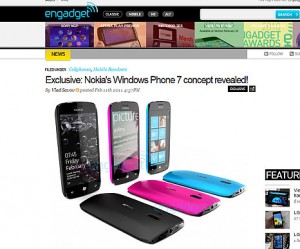 Nokia claims that the Nokia phone with Windows Mobile will:
Have better usability than other mobile OS.
Push gaming at the next level
Make it easier to process work documents in the mobile version of the Microsoft Office
Bring music and videos together in an easy way with media centre
Offer additional support for mobile email such as Microsoft Exchange
Offer improved Nokia Maps with Microsoft assets like Bing and AdCenter.
According to Elop, Nokia is not abandoning Ovi or Meego it is developing with Intel, but these two are going to form part of Nokia still in the future. Meego will become open-source based mobile operating system project. Nokia plans still to sell 150 million Symbian OS phones.
A Suicide?
There are more than 20.000 Finns who might lose their jobs because of the new strategy. While Nokia employees protest, Google is quick to take advantage of the Nokia top talent. "Any Nokia software engineers need a job? We're hiring: www.google.com/jobs", tweeted Aidan Biggins, responsible of personnel in Google Europe, Middle-East and Africa, on Friday. To be honest, many of the software engineers working for Nokia hate Microsoft and other closed ecosystems like Apple and this is why Google's offer to move might very well be tempting for the top developers. Especially if the national identity is lost. This is a serious danger, because the loyal developers are the heart and soul behind the success of any mobile brand and device.
Another problem are the loyal fans who are highly disappointed of Nokia's recent move and the fact it "has sold its soul to Microsoft". They want freedom to do what they want with the mobile and, as Nokia developers, hate closed ecosystem. Other fans love the clear Finnish identity and quality and how the brand stands out from the other mobile manufacturers. Again, if the identity is lost, brand will experience some very rocky times.
And of course, this may well be a Microsoft's evil plan to eat, chew and kill Nokia by taking its independence.
Genius move?
Microsoft is a strong brand and has a large software clientele, Nokia has the quality hardware side and a strong brand outside U.S.
Microsoft has been struggling in the market as well, because mobile devices are taking over the traditional computer industry and it has not really got on board yet. Therefore, the company might actually invest, instead of destroy,  big money in this alliance, because its Windows Mobile OS has a very lousy position in the Smartphone market. Since Nokia has negotiated a solution they still can tailor and update themselves, the brand may well take position over competitors relying on Google for progress. Nokia will also gain access to the U.S. market taking advantage of the Microsoft's extensive network.

Usability: according to the 2010 Digital Influence Index by Fleishman-Hillard and Harris Interactive, mobile users are not keeping up with the rapidly growing technology of the devices. We are not talking only about the U.S, the Index includes 48% of the global online population, such as France, Germany, the United Kingdom, Canada, China, Japan and the USA. People love Smartphones and the market is booming yet the users do not realize the real potential their phone has. Even if Mobile Internet use is increasing, there is a considerable difference between the capabilities the Smartphone offers and the quantity of people who actually leverage them. Maybe a Smartphone that is highly usable and helps users to discover new features is the new area to exploit.
If Nokia succeeds launching its new mobile with Windows Mobile OS, everything may not be lost. It might be a mobile that is more attractive and easier to use, seducing young people with improved gaming and older business audience with improved mobile email and work documents that are easier to edit. This might be a winning factor especially in emerging markets; Executive Fred Baumhardt stated at Microsoft SA's Tech-Ed Africa 2009 conference in Durban, that mobile devices such as Smartphones are entering the market four times faster than PCs or laptops. They have the potential to bring Internet connectivity and replace the need for other gadgets, providing considerable cost savings to many small businesses and consumers in Africa.
What comes to gaming, maybe Nokia should talk to other successful Finnish company, Rovio, who has created the Angry Birds we all love.
Maybe everything is not lost if Nokia keeps its head cool, does not lose its Finnish integrity and plays its card right.