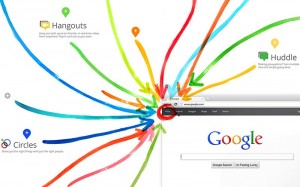 Google+ with user base of over 40 million people and growing has finally opened the doors for businesses. Since the launch there has been a lot of speculation whether Google would keep its promise to create business pages for brands and finally the wait is over. The launch of Google+ pages enables brands to connect with customers and fans while improving their search ranking as well as SEO campaigns.
A couple of brand pages are already available, including +Angry Birds, +Pepsi, +Toyota and +Barcelona Football club (you can create your own Google+ page here). If you already have played with your personal Google+ profile, the features Google+ page offers are familiar. For example, the page works through the Google+ mobile app, your brand can have live video conversations with the customers or fans, and you can place people in different circles – a feature which enables you to target better.
However, there are certain differences: brand page cannot send messages to a user who has not added them yet in their circle and the content on a Google+ page defaults to public (unlike personal profiles). Pages also cannot share with extended circles.
Google+ demographics
But who actually uses Google+? According to a Comscore study, Google+ has currently over 40 million users and 20 million active visitors across the world.
Top Google+ 10 countries:
US: 5.31 million
India: 2.85 million
U.K: 0.87 million
Canada: 0.86 million
Germany: 0.71 million
Brazil: 0.62 million
Taiwan: 0.52 million
France: 0.5 million
Turkey: 0.37 million
Spain: 0.37 million:
Unique visitors in Google+ are in average between 25-34-years-old. The Google+ audience tends to be more affluent, 54% earning a household income of $30k and over, and 12% earning $150k and up. 72% of the Google+ population is male and 78% of the professions in top 100 list consists of different developers, engineers and designers.
But despite the very interesting user base, is it really worth creating yet another social network page, even if it is Google+?
Google+ page benefits for brands
Besides of being an additional channel for user engagement, Google+ page allows you to have a different conversation with different circles increasing the effectiveness and relevancy of your message. With pages people are as well able to recommend a brand, not only separate sites, articles or ads.

What comes to the SEO,+1 recommendations have a positive effect in search ranking as well as search and display ads increasing their performance. Also, not only does Google include Google+ pages in search results, but it also is experimenting with a feature called Direct Connect. The latter enables user to navigate quickly to a brand Google+ page via typing + and the brand name. For example, if the user searches for +angry birds or +youtube he will be taken directly to the Angry Birds or Youtube Google+ page and he has a possibility to add the page to his circle. To become eligible for Direct Connect, Google suggests linking from your Google+ page to your homepage and vice versa. This also allows Google to determine your site relevancy in normal search, which means your pages are likely to index faster and have a better ranking than competitor pages without Google+.
Google+ replacing Facebook?
Once Google+ was launched I was playing with the possibility of Google+ threatening Facebook. 40 million and growing is still far away from the 800 million Facebook users, however it seems like influencers might be leaving Facebook.
Spotify investor and former Facebook President Sean Parker told the Web 2.0 Summit that some of Facebook's most active users are leaving to other networks. "The threat to Facebook is that power users have gone to Twitter or Google+," he claimed, "They are leaving, because Facebook isn't giving them enough ways to manage a glut of information". This trend also shows in a survey conducted by marketing agency Mr. Youth: nearly 50% of the teens argued that recent Facebook changes such as the ticker feed and certain apps make their Facebook page feel cluttered. Another 42% claimed that these changes have made the page navigation confusing and thought ticker feed showed too much information and seemed "stalkerish".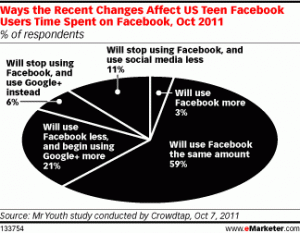 In addition, 21% of the surveyed teens vowed to use Facebook less and to begin using Google+ more, and 6% said they will stop using Facebook and switch to Google+.
Improved SEO and power influencers? Sounds good to me.